Hello!
Now that I have my dotting tools I'm far more adept at doing nail art, however I don't claim to be an expert by far! I first saw the ruffle manicure on
Chalkboard Nails.
All of her manicures are so amazing and her nails are perfect, she must have really steady hands!
I first started by picking out my nail colours: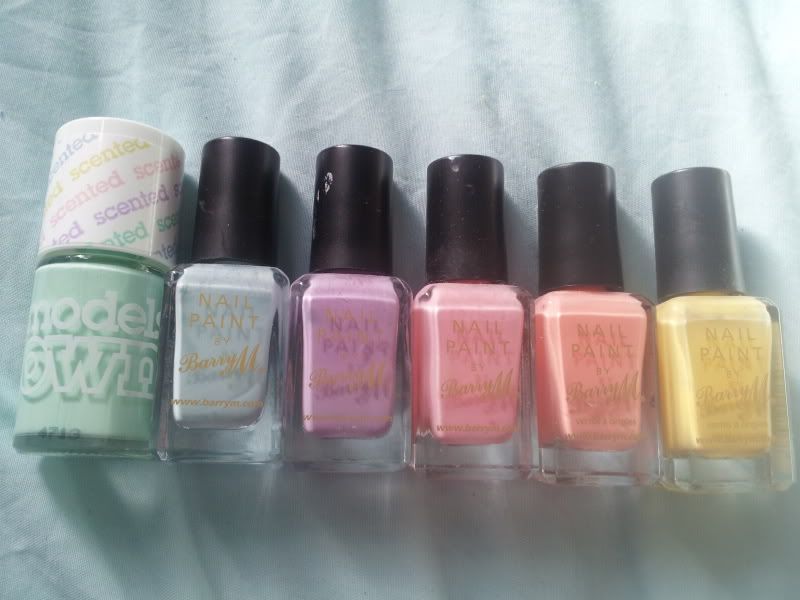 L-R: Apple Pie, Blue Moon, Berry Ice cream, Strawberry Ice Cream, Peach Melba and Lemon Ice Cream.
As you can see I'm the biggest pastel freak ever, I love these colours and thought they would all work well together, plus I thought that if the lines weren't straight it's less detectable with light colours.
For this manicure you will need the following:
I started with a base coat of Lemon Ice Cream, mostly because it's my least favourite colour:
Next you need to dab your dotting tool in the first nail varnish you want to use. Personally I pour a teeny bit onto some cardboard and dab it on from there. Although in this picture I have picked up the white dotting tool I cannot stress enough that using the biggest dotting tool you have is the best option, if you have the same set as me the biggest dotter is green!
You need to start with the polish you want to use, start from the bottom of the nail but leave a gap to show the yellow. You dot in a line with the dots touching, then using the next colour start another line of dotting, you need to slightly overlap the first line so it looks like a ruffle.
The picture above is three rows in, you could leave it with a band of the base colour on either side of the ruffles, it still looks cute!
What have you been doing to your nails this week?
x